2009 ~ Tulsa, OK.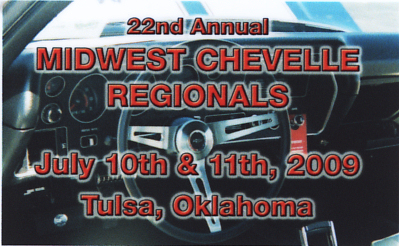 Photos from the 2009 Midwest Chevelle Regional show in Tulsa, OK. As usual, if anyone does NOT want their car displayed, please contact me here, tell me which car and I'll gladly remove it. Please be specific with show year and car's photo.
Held this year at the Cherokee Casino Resort in Catoosa, OK. offered patrons with not only a place to cool off in the Oklahoma heat but for the gambling person a nice selection of games to play from slot machines to poker. Golf was also available if one wanted to brave the heat.
The show was held on the 4th floor of the Casino's parking garage. While it wasn't the best for photography at least show patrons were in out of the sun.
1964 | 1965| 1966 | 1967 | 1968 | 1969 | 1970 | 1971-72 | 73-later
1964 | 1965 | 1966 | 1967 | 1968 | 1969 | 1970 | 1971-72 | 73-later