2000 ~ Wichita, KS.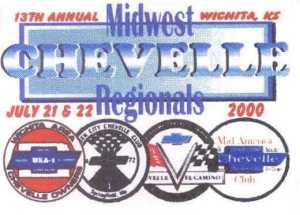 A little rain on Friday night caused some chamois to come out early Saturday morning, but it did nothing to hamper the enthusiasm of the 134 participants who brought their beautiful Chevelles to Wichita, Kansas for the 13th annual Midwest Chevelle Regional Chevelle Show.
Photos from the 2000 Midwest Chevelle Regional show in Wichita, KS. As usual, if anyone does NOT want their car displayed, please contact me here, tell me which car and I'll gladly remove it. Please be specific with show year and car's photo.
Cruise
Around 30 Chevelles made the Saturday evening cruise for burgers. Gathering in a parking lot for the return leg after dinner, can you say 13,000+ horsepower?
---
1964 - 1965
Many fine examples of 1st generation Chevelles.
---
1966
Blue seemed to be the dominate color for 66s again - six this year to include a couple of nice wagons. The 66 custom wagon must be seen to really appreciate it!
---
1967
While blue seemed to be the color for 66s, it was red for 67s this time out.
Pro Street 67s are few and far between - Wichita had two beauties in attendance.
---
1968 - 1969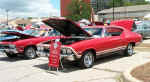 This '68 SS is purportedly to be one of seven aluminum-head big blocks built and the last remaining documented version. It's immaculate!
---
1970 - 1971 - 1972
---
El Camino