1999 ~ Tulsa, OK.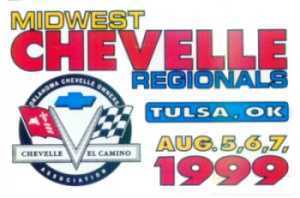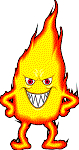 Photos from the 1999 Midwest Chevelle Regional show in Tulsa, OK. As usual, if anyone does NOT want their car displayed, please contact me here, tell me which car and I'll gladly remove it. Please be specific with show year and car's photo.
Tulsa was HOT, in more ways than one!
Well, thanks to my commercial photo processors, my three rolls of film (70 pictures) are toast. Every negative was bleached almost clear making each shot look like it was taken after dark without a flash. If you were at Tulsa, you know it wasn't dark! The chemical temp was too high and they never properly got developed. Wasn't just mine, but that didn't make me feel any better.
The best I can do is offer these video captures and thank the wonderful folks from the Oklahoma Chevelle Owners Association for hosting a fine event...even if it meant reclassifying my car three different times. Funny, after all that, during the awards ceremony there were only two award winning cars I can remember that they didn't have slides of and mine was one of 'em.
That aside, the hosts were excellent and did a fine job for their first time out. Kudos to all.
A special thanks to Billy and Barbara Neal of Eufala, OK and Dean Call of Overland Park, KS for allowing me to get out of the sun and share their shelter. Didn't stop the heat, but kept me from getting as red as Billy & Barbara's beautiful red Chevelle convertible!
Hang on, here goes! Click any image thumbnail to enlarge it.
Where there were 4 or 5 black 67s at Nashville, there was only this single, beautiful convertible at Tulsa. Of course, red or white look good too and, I kind of like my orange one for a different flavor. What could be more patriotic than red, white, and blue Chevelles all in a row?

Nashville boasted SIX Z-16s, one of which made the trek to Tulsa. Reportedly the lowest mileage, ORIGINAL, Z-16 in captivity. A real beauty. You should have seen the hauler this classic came in...probably worth as much as the Chevelle itself.
If you have a soft spot for blue 66 Chevelles, there were no less than 8 at the show. If memory serves, 6 hardtops, 1 convertible, and 1 300 Deluxe coupe. In addition, a second 300 Deluxe coupe done in Teal was present as well. These models aren't seen too often but these were fine examples.
The 300 Deluxe coupes weren't restricted to the 66 models. Here's a beauty from 68. It's refreshing to see someone else dare to be different, the 69 Malibu was a pretty little car. Max & Margaret Gray's 69 convertible came down from Iowa.

There were no shortages of red Chevelles present. This 70 LS-6 is a beautiful example.
El Caminos were out in force, from wild to mild. A "Real Street" blown 65 that was trailered in - nice just the same. The owner of the 68 SS had a color matching 68 Malibu to boot! Finally, the only one known to be in existence - an Impala nosed El Camino - El Impala!
Wagons weren't to be denied at Tulsa. A beautiful custom 66, an immaculate 67, and 468 cubic inches of big block power for the 70. One I don't have a shot of here is a cute yellow 64 with an Olds Vista Cruiser top grafted on. With big block power and dog dish hub caps, you just had to look twice!
That's it. I apologize for the quality of the pictures, but it's the best I could get from my Snappy and the digital video camera. Sure glad I took them as a backup though.