2001 ~ Overland Park, KS.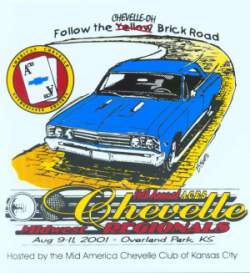 Photos from the 2001 Midwest Chevelle Regional show in Overland Park, KS. As usual, if anyone does NOT want their car displayed, please contact me here, tell me which car and I'll gladly remove it. Please be specific with show year and car's photo.
1964-1965 | 1966 | 1967 | 1968 | 1969 | 1970 | 1971-1972 | 1973 and Newer
Some of the cars that made the dinner cruise to Dick Clark's American Bandstand restaurant. Probably 40 or 50 cars made the trip. The entire restaurant staff was taken by surprise at the number that showed up!
1964-1965 | 1966 | 1967 | 1968 | 1969 | 1970 | 1971-1972 | 1973 and Newer